Room of the Week or commonly known as ROTW, is a weekly article contest where you get to create a room based on what the theme of the week is. It's an exciting way to show off your talented building skills as well as win a variety of prizes.
Last week, the theme was:
Autumn
Well done to those who placed and thank you to everyone else who entered!

Stella

Panada

Ginger
Congratulations! See @bram in game to collect your prizes!
This weeks theme will be:
Music Concerts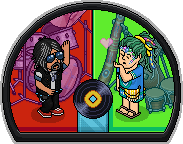 The name of the room has to be [ROTW #_] Theme, with the number of #_ being the one on this specific article.
We don't allow the use of the following: room ads or blatantly copying rooms that already exist.
Please do not delete the room after submitting it!
You may not submit on more than one account.
NOTE: Breaking any rule can easily result in disqualification without hesitation.
FIRST PLACE - Gold ROTW Badge, Gold Giant Pillow, 50.000 Credits, 250 Diamonds.
SECOND PLACE - Silver ROTW Badge, Silver Giant Pillow, 30.000 Credits, 150 Diamonds.
THIRD PLACE - Bronze ROTW Badge, Bronze Giant Pillow, 20.000 Credits, 100 Diamonds.
Minimum of 4 participants required to award a second place, 6 participants for a third place.
All entries must be submitted by (Thursday) September 30th 2021 9PM GMT
Results are released shortly after the submissions are closed or when possible.
Best Of Luck!
Feel free to contact us on Discord or on the client for future themes and suggestions!
br4ndon#0452 / @bram