The time has come! We are looking for a very unique individual to bring on board and join the Staff Team here at Juice.

You will start as a Hotel Moderator and will be on a probation period otherwise known as a "Trial Moderator" till we feel you are fully trained and ready for the promotion to Moderator!
Our Staff Team is made up of an amazing group of people who moderate all aspects of Juice on a daily basis as well as contribute to the hotel, keeping it a fun and friendly environment. We provide lots of competitions and events to our users!
As a staff member, you'll be apart of the effort and support that goes into all of these and much more.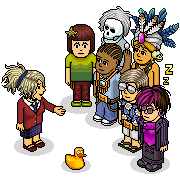 In addition to being a loyal player, we're looking for knowledgeable, caring, creative, and outgoing people to help with creating events, moderating and bettering Juice in the best way they can.

Punishing rulebreakers and offenders
Building rooms
Assisting players with enquiries
Bringing in new users and carrying out requests by superior Juice Staff Members
For more information click below

Best of luck!
- Hotel Management